WHEN IT COMES TO ERADICATING AIR POLLUTANTS, APYRON IS TAKING A LEAD. APYRON IS DESIGNING HIGH PERFORMANCE CATALYSTS THAT WILL ENABLE COAL-FIRED POWER PLANTS AND AUTOMOBILES USING FOSSIL FUELS TO MEET HIGHER AIR QUALITY STANDARDS. THESE TWO EMISSION SOURCES ARE RESPONSIBLE FOR THE MAJORITY OF COMBUSTION RELATED POLLUTANTS POISONING THE AIR WE BREATHE.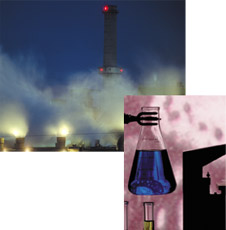 Our SCR catalyst targets NOx emissions from coal-fired power plants and diesel powered heavy-duty trucks. Using our patented technology, we can destroy or chemically bind these targeted contaminants to our catalyst and keep them from being released back into the environment.

The same approach holds true for our 3-way catalyst, which will aid in acheiving the US government's requirement that all gasoline automobiles and light-duty trucks meet increasingly lower emissions standards.

Features that make Apyron's catalyst innovations superior include:
Precious metal performance from non-precious metal Materials resulting in lower cost, higher efficiency products Lower operating temperatures Higher activity, selectivity, and performance Higher surface area Increased porosity Multiple functionality Regenerability Customization
Some common air pollutants targeted by Apyron's media include:


| | | |
| --- | --- | --- |
| | | Carbon Monoxide Hydrocarbons Hydrogen Sulfide |

While this may seem like a hefty challenge in itself, we're already working on more potential applications for our catalyst technology in the future, including:
Fuel cells Reformer catalyst (hydrocarbon to hydrogen) Borohydryde regeneration Polymerization catalysts Large scale chemical conversions Pharmaceutical isomer synthesis Hydrogen storage Nanotechnology
Home
© Copyright 2006 Streamline Capital, Inc. Apyron Technologies is a venture of Streamline Capital, Inc. All rights reserved.