THE PRIMARY CAUSE OF DISEASE IN THE WORLD TODAY IS THE LACK OF SAFE POTABLE WATER, WHICH CONTRIBUTES TO NEARLY 80% OF ALL GLOBAL HEALTH PROBLEMS.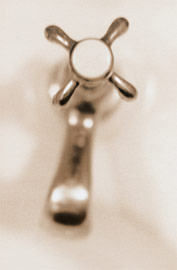 Helping meet the demand for safe drinking water across the globe, Apyron applied the principles of its Advanced Material Synthesis Technology to develop and commercialize a line of next-generation adsorption products - Aqua-Bind®. Apyron's Aqua-Bind technology is a selective chemical adsorbent that can be custom-designed to remove harmful contaminants from drinking water without eliminating beneficial nutrients. The Aqua-Bind series of advanced media can be used to purify water in large centralized treatment facilities, point-of-use devices, point-of-entry applications, industrial process waters, and environmental remediation projects. Concentrating on the removal of heavy metals, Apyron has created individual formulas tailored to remove single as well as groups of contaminants, including arsenic, lead, copper, iron and fluoride, among others. Key advantages of the Aqua-Bind technology include:


Short contact times can achieve high efficiency Imparts no odor or off-taste Selective contaminant recovery Adaptability and compatibility with previously installed treatment systems No pre- or post-treatment required Requires no sophisticated controls, electricity or instrumentation to operate Remains effective over broad pH and temperature range Spent media is nonhazardous Certified by the National Sanitation Foundation (NSF)

Apyron's Aqua-Bind products are the recognized industry leader in arsenic removal; both in the United States where new regulations are expected to reduce allowable limits by 80% and abroad. The company's efforts in remote villages of India and Bangladesh, where our custom-designed Arsenic Treatment Units already make an unprecedented impact on the health and welfare of village inhabitants, are just one example of our work in this area.

Our full line of Aqua-Bind products include:
| | |
| --- | --- |
| FOR ARSENIC REMOVAL | FOR LEAD REMOVAL FOR FLUORIDE |

Of course, this is just the beginning. In the future, we anticipate many more applications for our adsorbent technology, including chemical raw material purification, radioactive material remediation, pharmaceutical isomer separation, and hemotherapies.



Home



© Copyright 2006 Streamline Capital, Inc. Apyron Technologies is a venture of Streamline Capital, Inc. All rights reserved.